Bratislava highlights and Devin Castle by boat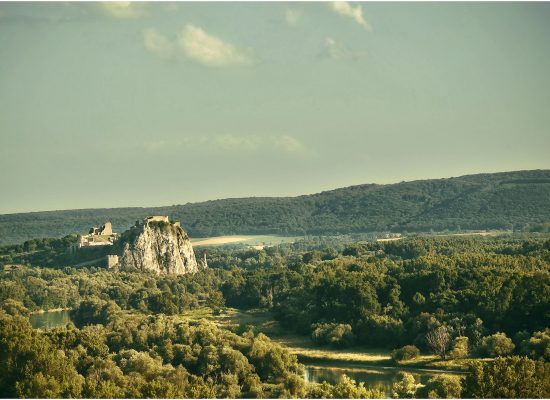 This tour will give you a great of the city. Passing the most important places, historical as well as cultural sights, visiting Bratislava Castle, Napoleon's Hill and Slavin, a WW2 memorial, with their splendid panoramic views.
Afterwards we'll be driving along the Danube to the magnificent ruins of Devin Castle situated above the confluence of the Danube and Morava rivers. Blown up by Napoleon's troops in 1809; Devin Castle offers magnificent views of the neighboring Austria and on a clear day you can see the peaks of the Alps.
Enjoy a lunch under the Castle ruins restaurant. Return back to Bratislava Old Town by boat on the Danube river. During our walk through the pedestrian zone of the Old Town we will look at St. Michael's Gate, the first University Istropolitana, St. Martin's Cathedral (where the coronations of the old Hungarian kings were performed), Primate's Palace, Old Town Hall and Opera House.
Stop at the oldest pastry and cafe in Bratislava, over 100 years old, Kaffe Mayer. Have a cup of coffee here, sip a glass of sparkling wine and enjoy famous "Bratislava rolls" stuffed with poppy or walnuts.
Price includes: luxury transportation ● guide ● 3-courses lunch in Devin castle area ● entrance to the Devin Castle ● boat trip Devin-Bratislava ● cup of coffee, glass of sparkling wine ● typical pastry to taste (and take with box) in and old fashion traditional Kaffe Mayer